Search Engine Optimization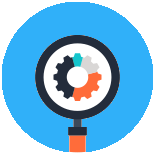 You may have a beautiful website; however if it's not ranking well with Search Engines, then you just Don't Exist.  Reactive Designs follows cutting edge Search Engine Optimization (SEO) techniques to make sure your website ranks higher and reaches more customers.
Reactive Designs can help you get your website optimized for all search engines.   This is our SEO workflow:
Find & fix on-page/off-page problems
Evaluate yourself against competitors
Identify opportunities for growth
Analyse your NAP (Name, Address and Phone Number) and Citations
Enrich your keyword list
Create content
Improve your Citations
Track and report your results
When we build websites we start with an SEO strategy so that your website can be found on the top search engines and is ranked high based on the key words for your business/organization.
It's a slow and steady game plan to get ranked well with search engines.  This is important to do because the search engine algorithms change and if you start with a solid long term plan then you will be fine when search engines make changes to their algorithms.  Do not get lured into purchasing backlinks from a company which posts backlinks to your site on blogs all over the world.  If you do this you might get blacklisted from the search engines.
The number one key aspect of Search Engine Optimization is to have a site created with solid code and well-structured content.  Reactive Designs in Moose Jaw builds websites with the latest industry coding standards and structures content for high SEO ranking.  Reactive Designs also uses many industry standard tools in fine tuning websites for optimal SEO such as Google Analytics, Google Webmaster Tools, Google Site Maps, Bing Site Maps, Google PageSpeed,  YSlow,  GTmetrix and several other SEO analytical tools.
We had our site re-designed by Jeff and Reactive Designs last year. Before this we had an amateur looking site with little traffic and virtually no presence on Google. Now with Jeff's help we have moved up to a professional looking site that loads faster, looks better and has much better traffic. I am most pleased that a Google search now brings up my company on the first page. All this has been done with a courteous and professional attitude, and for a reasonable price.
Dufferin Homes