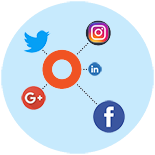 Reactive Designs will help you build and grow an engaged community and widen the net for capturing leads.  People are living and communicating in a social environment so it's very important for your business to be part of the social environment. Social media works hand in hand with search engine optimization, helping to develop trust and authority. Through Social Media, you can promote your business and products and to also manage your reputation.  Reputation management is very important when potential clients/consumers are comparing your website and social media profile to your competitors.
Managing the brand personality of your business isn't as easy as it sounds. You need to find the right customer base, advertise effectively to them and provide the kind of content and interaction they want from your company. It's also a job that requires constant monitoring and management, which can be a lot for a business owner to handle on top of everyday responsibilities. Reactive Designs will work with you to create a Social Media Strategy for your business and can also co-manage or fully manage your social media profile.
Reactive Designs can provide you with a Social Media Management dashboard to manage:
Social Media Advertising for Businesses
People are communicating in a social environment.  Social media can create a buzz around your brand with a focus on driving traffic to your website.  Incorporating targeted paid advertising into your social media marketing strategy through Instagram, Facebook, Twitter, LinkedIn, Pinterest, Google Business and others will help expand your reach to only those most likely to convert to a customer.
Creating a simple contest can expand your customer base.